Tourist attractions

Dorasan Station is the northern most station of the South Korea which is 700m distant from the southern boundary line of DMZ, the civil control zone. Since US president Bush visited Dorasan Station on February 20, 2002, it has come into spotlight internationally. Imjingak Station was opened in October 2001, and then Dorasan Station, the unfinished station of the north-south Korean reconciliation was opened on February 12, 2002 (the lunar New Year's Day) through the special Mangbae train operation in 52 years after the railroad service was stopped. The milestones of Dorasan Station (205km to Pyeongyang, 56km to Seoul) imply the reality of the division between two Koreans and a future hope and expectation. Because Dorasan Station is the northernmost station of the South Korea in the southern boundary line, Dorasan Station will play the role of customs and entry for Chinese and Russian people and goods as well as the North Koreans if Gyeongui Line Railroad connection is completed and the traffic is possible between two Koreans. Also, Dorasan Station contains the historical meaning as a symbolic place of the division between two Koreans and a gateway of the south-north exchange.
Here, Dora Observatory is the northern observatory place in Korea. Visitors can watch Mt. Songhak in Gaesung, Kimilsung Statue, Gijeongdong Village, Gaeseong Industrial Complex. This observatory is opened to public January 1987.
The 3rd Tunnel(The 3rd Infiltration Tunnel)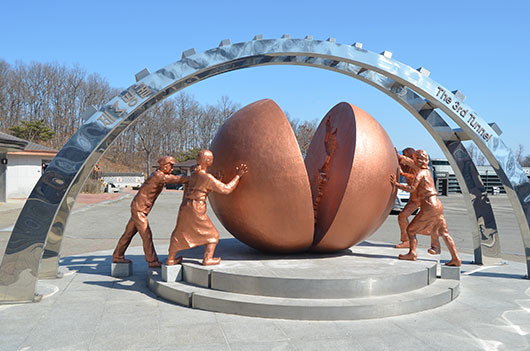 The 3rd Tunnel was discovered on October 17, 1978. It is located 52km from Seoul. It was estimated that it took approximately an hour for 10,000 soldiers to move through the tunnel. When this tunnel was first discovered, North Koreans insisted it was made by South Koreans in a plot to invade North Korea. However, this theory proved eventually to be false.
DMZ Theater and Exhibition Hall