Conditions
Price
| | |
| --- | --- |
| Rate (per person) | Participant at least |
| USD 95 | 2 participants~ |
* Bring your passport!
* 2-3days prior reservation is required
* Closing on Mondays/Holidays
* This tour is SIC(Seat-in-coach) tour (≠Private Tour).
Inclusion
– Hotel pick up/send off
– Shuttle Bus transfer
– Entrance fee
Exclusion
– Personal expenses
The 3rd Tunnel(The 3rd Infiltration Tunnel)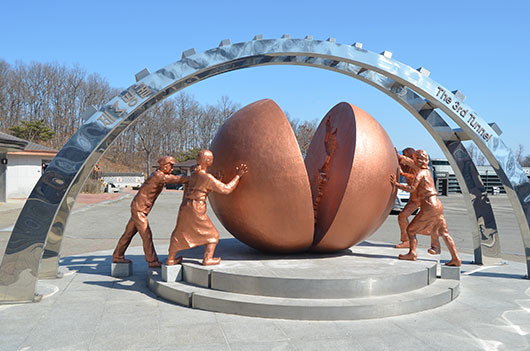 The 3rd Tunnel was discovered on October 17, 1978. It is located 52km from Seoul. It was estimated that it took approximately an hour for 10,000 soldiers to move through the tunnel. When this tunnel was first discovered, North Koreans insisted it was made by South Koreans in a plot to invade North Korea. However, this theory proved eventually to be false.
Camp Greaves DMZ Experience Center
Camp Greaves is the returned place as of August 2007 after US Army Force withdrawal in 1997. It was a camp base for the 506th US Second Infantry Division for about 50 years after the ceasefire agreement of Korean War. An accommodation for officers, living hall, physical activity hall and several other army facilities remained intact, and are considered to be the 'Modern Cultural Heritage' cultural assets. The camp turned into a peace and security experience facility, and it is located just about 2km away from the DMZ. It is also the first youth hostel to be located within a restricted area for civilians in Paju city.