– Hotel Pick up/ Send off
– Nami Island Entrance ticket (ferry fare)
– Petite France Entrance ticket
– Marionette Performance at Petite France(Free)
– Strawberry Farm Experience
* Period : End of June 2019
* Include : Strawberry picking & Take out – 500g
Exclusion
– Personal expenses
– Lunch
※ Private Rental Car Service with a Chauffeur
Rental Car
Pickup/Sending
Rate(USD)
9-seater van
a hotel in Seoul
USD230
25-seater bus
USD420
45-seater bus
USD550

* The rate is based on 9 hours.
* Inclusive : Parking fee, Toll fee, Drivers' tip
* Exclusive : Admission fee, Meals and Accommodation
Introduction

☆ Nami island
Namiseom Island was formed as a result of the construction of the Cheongpyeong Dam. It is a half moon shaped (462,809㎡) isle, and on it is the grave of General Nami, who led a great victory against the rebels in the 13th year of the 7th king of the Joseon Dynasty, King Sejo (reign 1455 ~ 1468).
Namiseom Island is 63 km away from Seoul in the direction of Chuncheon, and is famous for its beautiful tree lined roads. The island is 30 minutes away from Chuncheon and an hour away from suburbs of Seoul. Since it is not far from Seoul, many couples and families come to visit.

☆ Petite France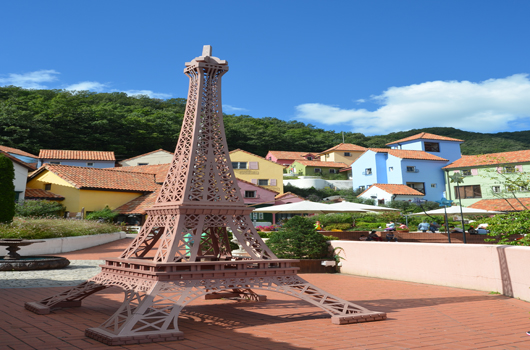 The concept of Petite France encapsulates 'flowers, stars, and the Little Prince.' The village contains a memorial hall dedicated to Saint-Exupery, the author of the celebrated French novel, Le Petit Prince (1943) and as such it is called the Little Prince theme park. It also has a gallery displaying sculptures and paintings of le coq gaulois (the Gallic rooster), the national symbol of France; Orgel House where a 200-year-old music box plays a sweet melody; a shop that sells herbal and aromatic products; a souvenir shop; and many other locales where you can experience French culture. The village can accommodate up to 200 visitors with 34 guest rooms that hold four to ten people each.
Enjoy the marionette experience and hear percussion instruments from around the world, and also enjoy soap bubble experience.

☆ Gangchon Ski School (Ski Lesson)
 Even beginners can enjoy a downhill run from the top! Elysian Gangchon, with a total area of 203,740 square meters, features eight of the ten slopes in total for beginners or intermediates ( 2 for beginners, 1 for pre-intermediates, 5 for intermediates, 2 for the advanced). We have lower difficulty level of the slopes than those of any ski resorts so that more people can enjoy skiing in comfort.