Price
| | |
| --- | --- |
| Classification | Price (per person) |
| Double Occupancy | USD 250 |
| Triple Occupancy | USD 245 |
– 4 people have to sign up for there to be a tour!!
Inclusion
– Round-trip Train(KTX) Ticket
– Transfer (bus)
– All admission fee
– 1night at Motel
– 2meals(1 Lunch/ 1 Breakfast)
– Tour conductor(Not Tour guide)
Exclusion
– Personal Expense
– Insurance Fee
Gyeongju is located in the southeastern part of Korea. It is bordered by the city of Ulsan to the south, Pohang to the north, Cheongdo County to the southwest, Yeongcheon to the northwest, and the East Sea to its east.
The whole city of Gyeongju is dotted with heritage sites and full of destinations for travelers from both native and overseas. With lots of historic sites and antiquities scattered everywhere you go, you'll feel the essence of an ancient culture embodied in relics like Buddhist temples and sacred stone carvings, allowing you to look back upon ancient cultural and artistic splendor and witness the glory of a past dynasty.
Gyeongju was the ancient capital of the Silla Millennium, but in more recent years has raised its international profile above and beyond its well-known image as a historic attraction by successfully hosting international conferences and Expo festivals. Some of Gyeongju's most important relics are Seokguram Grotto, Bulguksa Temple, Poseokjeong Pavilion's original site,
Heavenly Horse Tomb (Cheonma-chong), Cheomseongdae Astronomical Observatory, and Anapji Pond. With a total of 396registered cultural properties, Gyeongju holds 5.5% of Korea's cultural properties, and 30% of the cultural properties of North Gyeongsang Province.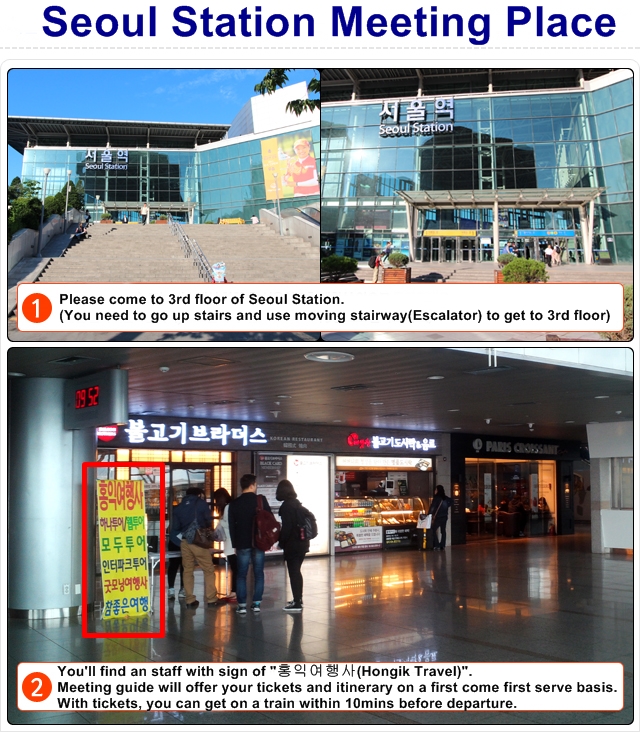 This tour will start from Seoul station(Line#1). Please take your train tickets(round-trip tickets) at the Seoul Station at least 20minutes before departing.
How to get there