Introduction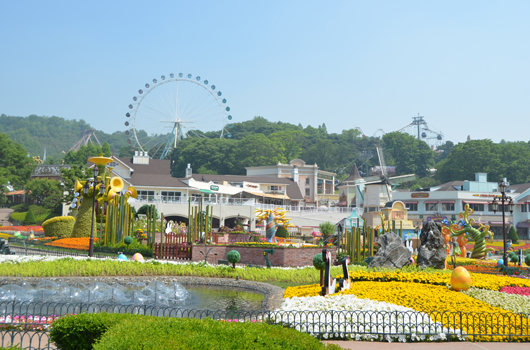 Since the opening in 1976, Everland has been a theme park providing a wide range of attractions and special events that can be shared with family, friends and couples.
Such attractions include 'Safari World,' introduced in the 70s, the 'Snow Sled' in the '80s, and 'Caribbean Bay' in the 90s, along with 'Aesop's Village'.
The latter was the first Aesop-based theme park in the world which opened in 2005.Furthermore, we ensure customer satisfaction by providing a complete range of services.
In order to double the pleasure of your stay with us, we offer personalized services and a high level of education and entertainment.Everland Resort has been recognized for our innovative services. For five consecutive years (1996~2000) we have been awarded with the Innovative Operation Prize for Customer Satisfaction in the Republic of Korea.
These awards have qualified us to be a part of the Customer Satisfaction Hall of Fame.
In addition, we have been selected as the Top Enterprise in the Theme Park area by the Korea Standard – Service Quality Index (KS-SQI) for ten consecutive years (by the Korea Standard Association in 2009).
We have also won the BIG E Award, given by The International Association of Amusement Parks and Attractions (IAAPA) during the parade held in 2005. In January 2008, we also came in 8th position out of the top 100 brands,
as judged by Brand Stock, a specialized company in charge of the evaluation of the brand values.Everland Resort makes everyone happy and will continue to provide exciting and interesting services in the future.