Conditions
Price
| | | |
| --- | --- | --- |
| Participant | Rate (per person) | Remark |
| 4 people | USD 70 | |
* We will pick you up and drop off at your Hotel.
* Itinerary of tour is changed during December ~ March.(Light Festival)
Inclusion
– Round trip Transportation
– Nami Island Entrance ticket (ferry fare)
– Petite France Entrance ticket
– Rail bike ticket
– The Garden of Morning Calm Entrance ticket.
Exclusion
– Personal expenses
– Lunch
Confirmation of reservation
– You can pay the charge via paypal(Credit cards are acceptable).
Once you send us your reservation information, we'll send you the invoice with PAYPAL link for payment. Then, after we confirm your payment at PAYPAL, we'll send you the voucher as soon as it's ready.
Cancellation policy & Refund
– Full refund 3 days before the tour
– No refund before tour 2 days
Introduction

☆ Nami island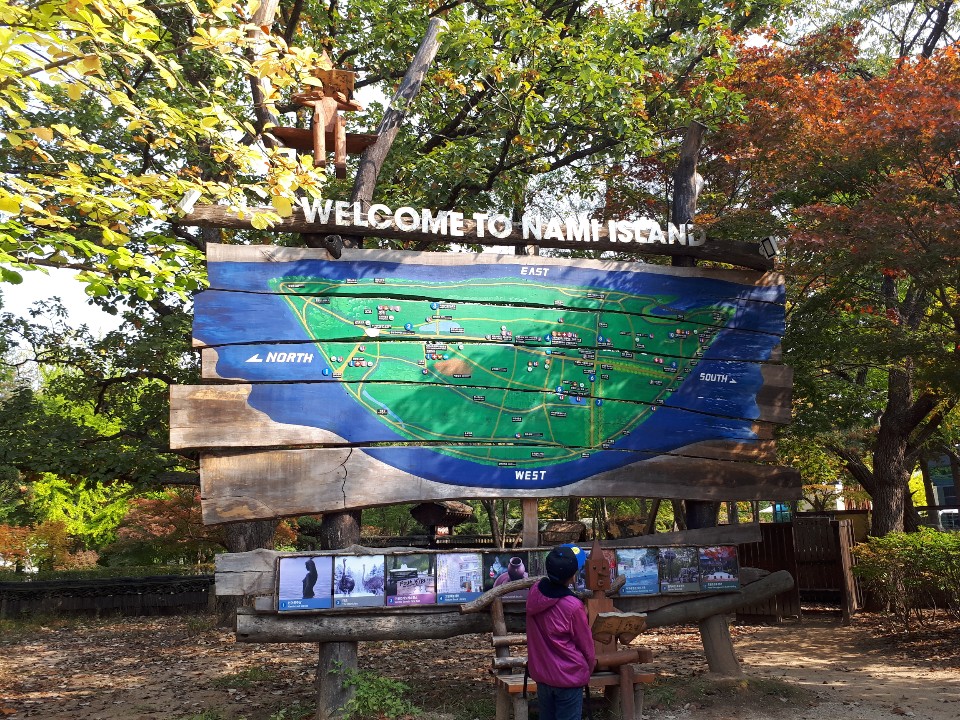 Namiseom Island was formed as a result of the construction of the Cheongpyeong Dam. It is a half moon shaped (462,809㎡) isle, and on it is the grave of General Nami, who led a great victory against the rebels in the 13th year of the 7th king of the Joseon Dynasty, King Sejo (reign 1455 ~ 1468).
Namiseom Island is 63 km away from Seoul in the direction of Chuncheon, and is famous for its beautiful tree lined roads. The island is 30 minutes away from Chuncheon and an hour away from suburbs of Seoul. Since it is not far from Seoul, many couples and families come to visit.

☆ Petite France
The concept of Petite France encapsulates 'flowers, stars, and the Little Prince.' The village contains a memorial hall dedicated to Saint-Exupery, the author of the celebrated French novel, Le Petit Prince (1943) and as such it is called the Little Prince theme park. It also has a gallery displaying sculptures and paintings of le coq gaulois (the Gallic rooster), the national symbol of France; Orgel House where a 200-year-old music box plays a sweet melody; a shop that sells herbal and aromatic products; a souvenir shop; and many other locales where you can experience French culture. The village can accommodate up to 200 visitors with 34 guest rooms that hold four to ten people each.
Enjoy the marionette experience and hear percussion instruments from around the world, and also enjoy soap bubble experience.

☆ Gangchon Rail Park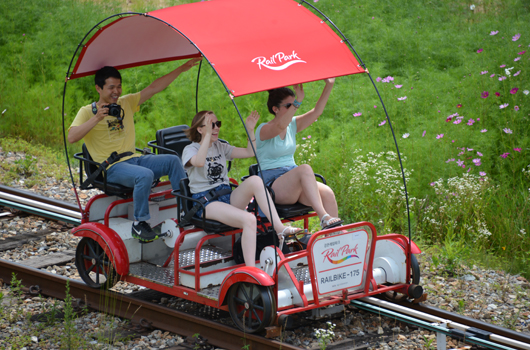 When the Gyeongchun Line, a double-tracked railway line connecting Seoul and Chuncheon, opened on December 20, 2010, it replaced the Mugunghwa train that traveled this route for 70 years. Built on the site where the train on the Gyeongchun Line stops, Gangchon Rail Park is a popular tourist attraction where visitors can pedal along old railroad tracks while taking in the lovely Bukhangang River scenery.

☆ The Garden of Morning Calm
The Garden of Morning Calm is one of Korea's major botanical gardens, attracting about 700,000 tourists from home and abroad annually. The garden aims to promote the beauty of Korean flowers and plants to the world. They also play a huge role in developing Korea's garden culture.