Detailed Itinerary
Itinerary
07:00 ~ 08:30
Hotel(Departure) → Golf Club(Arrival)
09:00 ~ 12:00
Golf Course
12:00 ~ 13:00
Lunch
13:00 ~ 14:30
Hotel(Arrival)
* Itinerary can be changed according to tee time.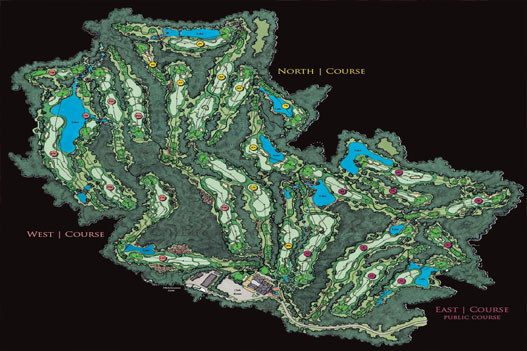 JMP GOLF DESIGN GROUP, a professional golf club design company which planned distinguished golf clubs worldwide, created a second masterpiece course at Blackstone Golf Club Icheon after the Blackstone Golf Club Jeju. It is a 27-hole course with an average of 4~5 tees per hole. Bunkers are threatening but appropriately arranged to maximize the fun of playing. The fairway and rough are designed to preserve natural conditions as much as possible. The average altitude difference of 88m, gentle geographical features with an average slope of 13.2′, green area of 19.549m2(about 5,913pyeongs), average green area of 724m2(About219pyeongs) and up to the real entertainment of golf, 13 tee house(East, North, West)and Start House(Cafe Terrace)
※ East Course(9 Hole / Par 36 / 3,299M)
※ North Course(9 Hole / Par 36 / 3,309M)
The 1st hole in the North Course starts with a feeling being sucked into the valley. The following holes lead to the mountains and valleys, presenting dramatic scenery. As you pass through the natural forest, an open area awaits you. The lake and pond adds Liveliness to the last three holes of this course.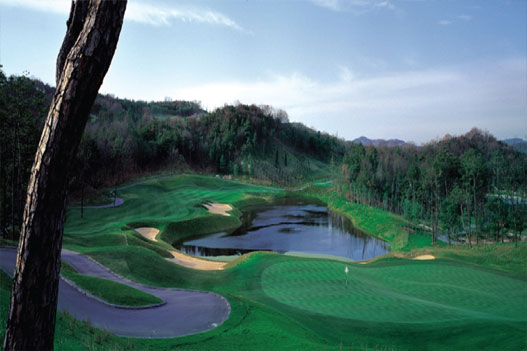 ※ West Course(9 Hole / Par 36 / 3,379M)
As the longest course of 3,749 yards, the West Course start by meandering toward the beautiful forest. This course requires bold courage, and the lake which overwhelms the golfer's sight demands strategic judgments while passing the holes. The 8th and 9th holes that spread along the mountaintop will be deeply imprinted in the golfer's heart.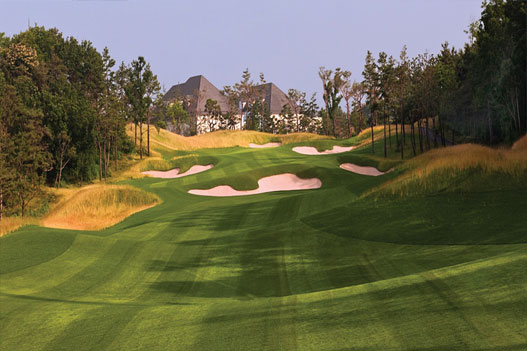 ※ Tee House & Putting Green
Blackstone Golf Club Icheon has two putting greens. Each putting green is located in the front and back of the club house. They are maintained at the best condition so that it could be used comfortably anytime.