Conditions
| | |
| --- | --- |
| Time | |
| English | Hotel → Safety, Riding Lessons → Horse Riding → Feeding & take a photo → Hotel |
| Japanese | ホテル → 乘馬 講習 → 乘馬 → えさ与える & しゃしん → ホテル |
| Chinese | 宾馆 → 乘马 讲习 → 给食 & 摄影 → 宾馆 |
Tour
Location
Rate
(per person)
Participants at least
Day off
Gyeonggi-do
USD 210
2 people
–
Inclusion
– Hotel Pickup & Sending
– Horse-Riding
Exclusion
– Personal expenses are not included.
Outline
Spacious ranch with beautiful park and competent trainer will make you special horseback riding experience in Korea. Come and run on the grassland along with the Mother Nature on horseback. You can feel the panoramic view and refreshing breeze. We invite you to the best attraction, horseback ride ranch, located in Gyeonggi-do.
Outline

Detailed Itinerary
Itinerary
08:00 ~ 09:30
Hotel(Departure) → Horse Riding Ranch(Arrival)
09:30 ~ 11:00
Horse-Riding Lesson, Horse Riding ,Feeding & Take a photo
11:00 ~ 12:30
Heading to Seoul →Hotel
Program explanation(60~90mins)
Lesson : Safety Lesson, Horse-Riding Lesson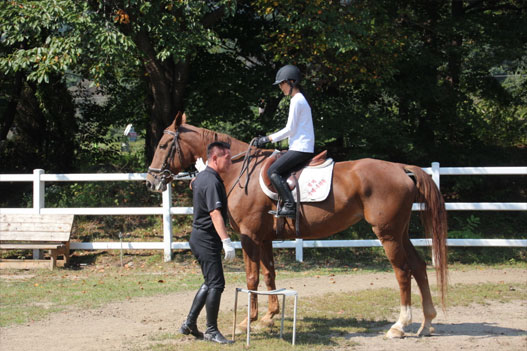 Horse Riding
Feeding, Leading Horse and Take a photo
Who is good for horse-riding program?
I'm interested in learning horse-riding but never done before.
We are family tourists so we're looking for some experience activity for family members in Korea.
I like to do challenge new things but hate spending much time on the road.
I'm not a first time in Korea. I'd like to experience something new
Physical Benefits of Horse Riding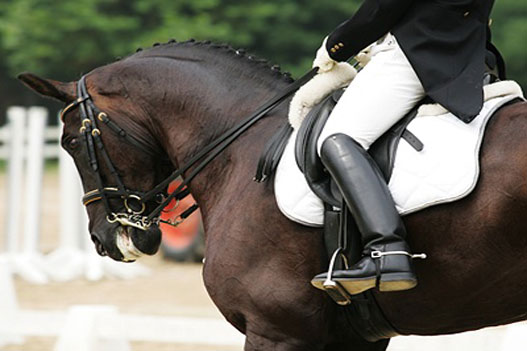 Being a form of exercise, horse riding improves respiration and blood circulation as all exercises do. What makes it different is that the activity involves having a good posture on the back of the horse for an extended period of time, which translates to better posture overall for the rider. It promotes balance and coordination during the movement of the horse and the motor function of the rider improves as a result.
The rhythmic gait of the horse induces a constant need for the rider to adjust accordingly, and different muscle groups, especially pelvic muscles and postural muscles are actively being worked on. At higher speed, other muscle groups such as quadriceps and hamstrings are being worked on intensively.
The constant adjustment and counter-reaction towards the horse's natural gait, coupled with good riding posture strengthen the spine, increase joint mobility, and condition various muscle groups.
A seasoned horseback rider will also develop great sensory integration with the surroundings, developing alertness and able to perceive and handle emergency situations better.
Mental Benefits of Horse Riding
Apart from the obvious health benefits of horse riding, the mental aspect of it should not be taken lightly. Countless folks who have taken up horseback riding report the enjoyment they experience during the ride. Even children who are taking horse riding lessons look forward to their next lesson.
The sense of enjoyment is derived from both the joy of riding and feeling connected with the great outdoors. The breath of fresh air at the riding trails and the heartfelt enjoyment lead to lower the stress level often associated with the modern life. Riders with less stress level gradually develop a feel good factor towards themselves and this in turn makes them more positive and cheerful and the newfound optimism permeates their daily lives.
As an amateur rider proceeds to become more proficient, they are constantly learning new things; be it horse riding vocabulary, coordination and balance, grooming of the horse, etc. The learning never stops while the mind never gets disengaged. This mental exercise of continuous learning keeps one alert and prevents memory loss, as studies have shown.
Regular riders also develop a deep sense of trust with the horse, which consequently lead to a greater capacity to trust other people around.
Facility & Riding Pictures